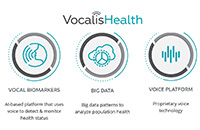 Beyond Verbal: Vocal Biomarkers with Healthymize
June 2020. We are developing personalized, artificial intelligence (AI) based, voice monitoring that turns smart devices into remote patient monitoring devices for voice-affecting diseases such as asthma*, pneumonia* and COPD**. Healthymize automates labor intensive phone monitoring typically in place to prevent readmissions and manage chronic patients, giving clinicians the ability to assess the voice of the patient at any time.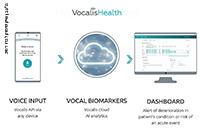 Our goal is to monitor the progression of these diseases wherever and whenever patients speak on their smartphones. Healthymize analyzes voice samples from the patient aiming to identify the onset of flare ups. When a flare up is detected, the system could alert medical teams to enable early treatment of patients at home, keeping them where they feel most comfortable.
Partner With Us
Our diverse team is composed of experienced individuals who work passionately to improve the lives of chronic patients. As a growing company, we value collaboration with others that have a similar vision. Our goal is to provide a voice monitoring solution for home care, chronic care management and readmission preventions.
Vocalis Health's product & solutions might be subject to regulatory clearance and currently not available for sale.
Source: Vocalis Health / ביונד ורבל קומיוניקיישן בע"מ
Disclaimer: You agree that B2Bioworld is not responsible and will not be held liable for any third party content on its sites or any third-party content, products or services available on other web sites accessed through links from B2Bioworld sites. Links to third-party sites are for your convenience only, and their inclusion on B2Bioworld's sites does not imply any endorsement, guarantee, warranty or representation by B2Bioworld.