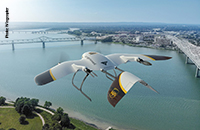 UPS & Wingcopter: Health Products Deliveries by Drones
March 2020. UPS (NYSE:UPS) drone delivery subsidiary UPS Flight Forward (UPSFF) today said it would collaborate with German drone-maker Wingcopter to develop the next generation of package delivery drones for a variety of use cases in the United States and internationally. UPS chose Wingcopter, a transport drone pioneer, for its unmanned aircraft technology and its track record in delivering a variety of goods over long distances in multiple international settings.
Wingcopter has already proven its capabilities in numerous beyond visual line of sight (BVLOS) projects and for diverse customers around the world – from commercial factory-to-factory deliveries to life-saving humanitarian projects and emergency medical supply. For example, Wingcopter delivered insulin to an Irish island in the North Sea that is frequently cut off from the mainland due to bad weather. On the South Sea island of Vanuatu, the start-up, on behalf of the local Ministry of Health and supported by UNICEF, successfully set up an on-demand vaccines supply, delivering the urgently needed serums within minutes to multiple different health centers.
UPSFF last year began operating commercial drone delivery flights in the UPS network, starting with delivery service at WakeMed's flagship hospital and campus in Raleigh, N.C. Since then, the company has delivered thousands of medical samples via drones, supplementing a ground courier service. UPSFF later announced plans to establish drone delivery services on several healthcare campuses and has been exploring the use of drones to deliver retail, prescriptions and medical products in residential settings.
Source: Wingcopter GmbH
B2Bioworld Comment
Wingcopter's partnering with UPS comes at a time when drone spin-off UPS Flight Forward (UPSFF) explores opportunities in Europe, and in particular those for healthcare logistics. UPSFF was incorporated June 14, 2019 in North Carolina (US) to be quite close to WakeMed, a tertiary healthcare hospital and laboratory network also based at Raleigh, NC. Three and a half month later UPSFF was awarded a standard air carrier certification by the Federal Aviation Administration (FAA) as first operator of an Unmanned Aircraft System (UAS) in the United States. Starting in 2017 the American Transportation Department initiated the UAS Integration Pilot Programme with the lead participation of municipalities, the University of Alaska and several State Transportation Departments across the U.S. Among a broad range of applications to be tested (e.g. agriculture, pipeline inspection, etc.) North Carolina chose healthcare deliveries (blood samples) and UPSFF. For the beginning the US operator targets revenue-generating deliveries for critical care and life-saving services which are part of UPS' healthcare offerings, a logistics branch which is set to grow even more during the spread of infectious diseases like the coronavirus.
The United Parcel Service (UPS) Group owns or leases aircraft including facilities. Therefore it depends on close collaborations with manufacturers of air transport devices. Up to now UPSFF still tests suitable rotorcrafts. For its U.S. deliveries it relies on a quadcopter manufactured by Californian Matternet which currently operates some 20 drones authorised by the FAA.
UPS' first choice partner in Europe was Wingcopter out of several reasons. Wingcopter is developing electric-vertical-takeoff-and landing drones which are low noise forwarding and fly in stable mode also under harsh weather conditions. In addition flight range and payload seemed to be a selection criterion. While at Raleigh UPS deliveries to WakeMed required a range below 1km, Wingcopter claims its UAS has a range of 45km with 6kg payload, whereas Matternet says Swiss postal services operated its UAS with payloads up to 2kg and a range of 20km. Another issue are upcoming EU regulations for UAS. Starting July 1, 2020 all drone operators shall register with the European Union Aviation Safety Agency (EASA). One year later, 2021, national certificates and declarations fully are converted to the EU system, and in 2022 authorisation is mandatory. It is not yet clear, if authorizations by the Swiss Aviation Agency, which Matternet retains, will also be accepted by EASA. Wingcopter has been strengthening its network to regulators during the last months. Thus it offers UPSFF a competitive edge.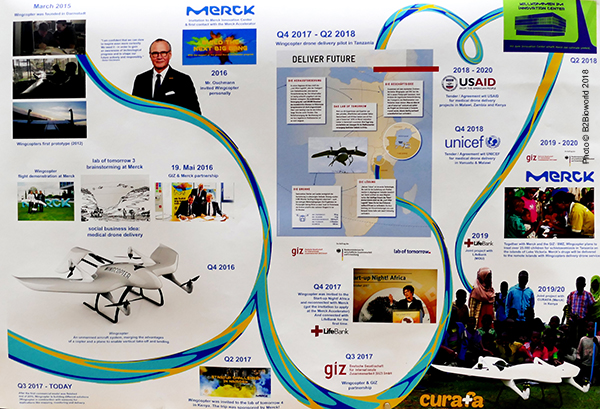 A major asset is Wingcopter's shareholder Merck. The pharma company is targeting countries with high unmet medical needs and poor infrastructure (see Oschmann 2018). Several tests of drone deliveries with healthcare products already were successful in such regions. UPS will not only gain access to technical insights (compared for example with Matternet) or the European policy and regulatory framework (including, e.g. how to handle EU GDPR regulations with UAS deliveries), but also do's and don'ts for deliveries in developing countries (see Dolinger 2017). The business model of Wingcopter targets not only the "last-mile delivery" in industrial countries, but has proven also as a crisis intervention service in countries like Kenya, Malawi, Zambia (under an agreement with USAID). Given current hopes for a vaccine against the coronavirus European in-home deliveries are another option for UPS. "Over-the-threshold services is where the world is headed" told Christopher Cassidy, UPS VP global healthcare logistics strategy Reuters last March. Cassidy moved from GlaxoSmithKline to UPS. Last not least, Darmstadt is in the Rhein Main area where Frankfurt is close and UPS' air hub for Europe is located in Cologne, if the company decides purchasing European certified UAS from Wingcopter. Wolf G Kroner, contributed Hank R. Petter, Julia Ochambe

References
Dolinger D (2017): Opening up Emerging Markets for Rapid Diagnostics and Point-of-Care Assays. B2Bioworld, August.
Oschmann S (2018): Philanthropy re-visited: Merck's focus on Africa. B2Bioworld, August.
Disclaimer: You agree that B2Bioworld is not responsible and will not be held liable for any third party content on its sites or any third-party content, products or services available on other web sites accessed through links from B2Bioworld sites. Links to third-party sites are for your convenience only, and their inclusion on B2Bioworld's sites does not imply any endorsement, guarantee, warranty or representation by B2Bioworld.