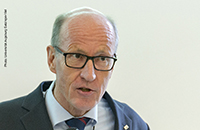 Big Data & Research - Acquisition, Analytics, and Exploitation
May 2019. Claims of doing "research", in particular to pursue "scientific" interests are regularly invoked when it comes to be exempted from common regulations or claim privileges. This is particularly evident, if acquiring, analysing, or exploiting "Big Data". While proven scientific pursuits rightly enjoy public privileges, blanket attributions of doing nothing else but "science", inflationary exploit of research privileges, or dubious roles of "scientists" have been raising widespread public concerns.
Ulrich Gassner, Professor of Public Law at Universität Augsburg (DE) offers a legal perspective from current debates in German and EU regulations following GDPR in 2018. How is oversight organised in the EU? What about moving health data acroos borders? With examples from DigiMed, a Big Data healthcare project by the Bavarian Government.
Read Now:
2,00 EUR (incl. 7% VAT)